HERE IS A SAMPLE OF RECENT WORK PREFORMED BY PRECISION ROOF WORKS.
Some of the samples are from tougher more complex jobs to showcase our ability to co-ordinate and accomplish multiple trade-complex jobs.
Most jobs are much simpler and routine and comprise 80% of the work done by us.
Flat Roof: Project 1
termites · Too many roof layers · ROOF STRUCTURE COLLAPSING
Protection of houses from falling debris.
Old roofing being removed
Lots of guys makes it get done quickly and safely (as weather can move in when the roof is open).
Termites in the layers of the roof
All the old insulation being swept out.
Insulation and plywood going in
Note: Chimney is new but did not go down to the rotten bricks so it had to be rebuilt.
More spraying. Chimney going up.
Done; included fixing the neighbours eaves which ran water between the houses and onto this roof.
Water now runs to eaves trough (we added a slope). Roof and structure good for well over 20 years.
Flat Roof: Project 2
REMOVE HUGE deck on flat roof · replace roof
Wood deck over flat roof gone and old roofing. Patio door has leaked and has rotted out a bit of the frame (surprise!).
Very important structure (4 beams) is rotted out. Actual rot is through two beams fully and partially into the third. These beams hold up the back shingled roof and the patio door etc...
Removed two of the rotted beams and installing stronger ones (glued together etc..).
Two beams now in fully. The beams were all bolted together.
Roof is on.
Note: It is roofed UNDER the shingles and door so all is water tight.
Close up photo of the brown metal going under the door as well and sealed up here further solving the problems.
New deck can go back on now. Roof and structure good for well over 20 years.
Flat Roof: Project 3
commercial building

· leaks · no insulation
Before
Problem: flat roof is sloped back towards the building and there is a 4'' high lip around the entire roof allowing no drainage.
Before
Once gravel is swept away the pooling become visible (the gravel hid most of the pooling).
After
Roof was re-sloped so the water will drain to the rear, the 4'' high lip was removed at the rear and an eaves trough was added.
After
The new slope is easy to see and done with a rigid foam insulation so the building now has insulation. A new deck was added (not shown).
Flat Roof: Project 4
removed rear shingled wall

· patio door · doubled room size
Back section of house removed. You can see the 45 degree slope of what was the back wall here.
Chimney rebuilt now. Two skylights are starting to be framed in.
Top of patio door framed in (you can only see the top). All roofing carpentry done.
Wall carpentry almost done. Third layer of flat roof being installed on the roof which will now have a patio deck (the black rubber membrane you see is the third layer of a four layer roofing system).
Top flat roof is done and skylights are roofed in.
Skylights aimed away from the sun to decrease heat and allow for a more ambient light. The grey roofing layer is the final sun proof and water proof layer.
Flat Roof: Project 5
very poor job access

·

Wood behind eaves trough rotted out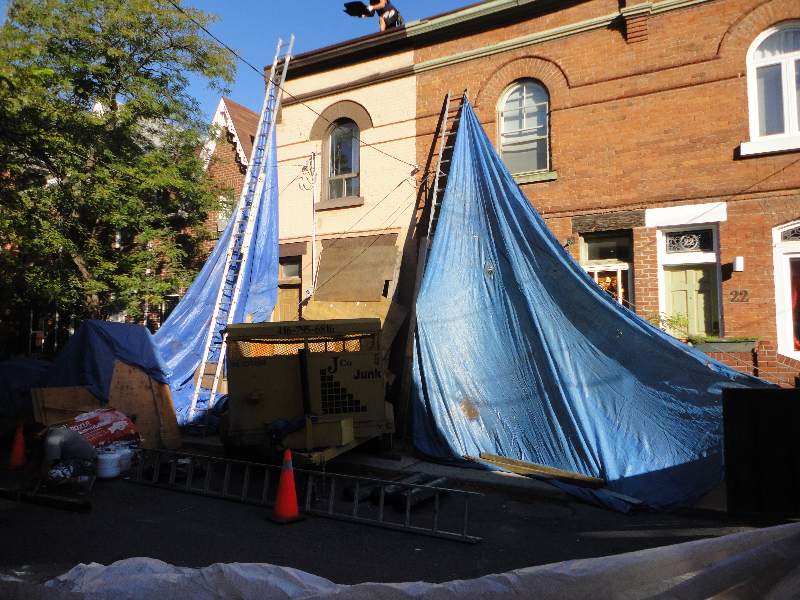 Plywood up wall 15', tarps covering neighbours walls and sidewalk blocked off. Bin set up to throw debris straight into bin. Bin was on sidewalk from 8am till 5pm (this kept the neighbourhood interference from us to a minimum).
The fireproofing layers shown again here and that they run onto the neighbours roof. It is all nailed very well for safety with large nails. A 4'' wide wooden strip is added under all this to make a nice transition for the new roof. New roof not shown.
Useless chimney at front taken down. We will add some 2x4's and plywood and cover all this over (not shown). Note again how thick old roof was.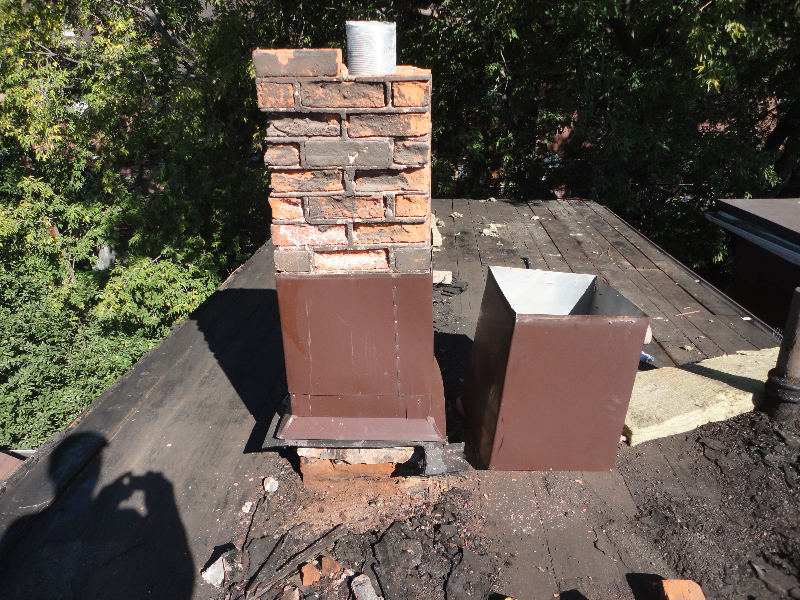 Exisitng chimney had been covered in brown metal which I had guessed meant it was rotten. This turned out to be true. Chimney was rebuilt.
Old roofing is around 4'' thick. Wood behind eaves trough rotted out; animal screens added to handle animals intrusions now that wood is rotted. (original roofs not run into the eaves caused this and the eaves should be up higher). All this was fixed (not shown).
House had no insulation so it is being added from the outside now that the roof is open. (huge savings and less mess than doing it all by taking the ceilings down from the inside or cutting holes and blowing it in from the inside).
Grey fireproofing layer added and a black torch safe fiberglass board is added. No water proofing has been done yet. You can see the new smaller chimney (and of legal height) has been built now.